Small mouth - small flies!
The small dipterae - Simulium sp. - has always been a problem - they are tiny and shows up in fantastic numbers. Why should a trout prefer our imitations when there are som many all over the water?
An old friend of mine - the late Johannes Vangsgaard - created an imitation, He copied two flies in the act of sex on the same hook.
| | |
| --- | --- |
| Hook | Size 14 - 16. |
| Tying silk | Black. |
| Rear- & Front-hackles | Black cock - the one at the bend with shorter fibres than the one at the front. |
| Body | Black silk, black herl or black quill. |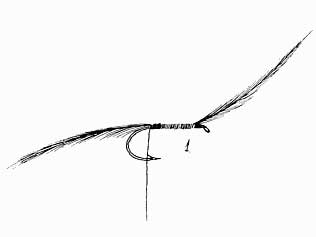 After tying the front-hackle down behind the neck of the hook, one winds to the bend, tie the rear-hackle down and turns it. To tie the body materail down - should it not be the tying silk - can be a problem, if one has thick, clumsy fingers; but in the drawing I have shown, how to do it very easily.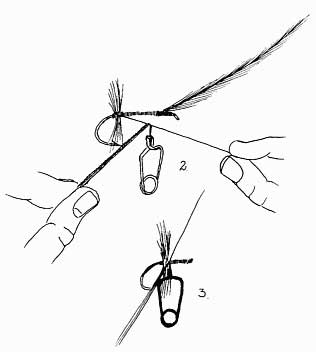 The body is formed and the longer front-hackle turned and the fly finished in the usual way.

© Preben Torp Jacobsen. 'Flyleaves', 1996.